Rhubarb Homemade Applesauce Custard Pie
This recipe came about as a result of not having enough rhubarb to make a pie.
The week before I'd made my hubby an applesauce pie.  He'd wanted an apple pie, but with those little apples there was NO way.
A friend and I had made applesauce using my Vitamix.    So I looked up applesauce pie recipes and sure enough, there are a lot out there.  I rather combined a few, and it was good, but on the skimpy side, calling for only 2 cups of applesauce.
This weekend I had 3 ¾ cups of cubed rhubarb, not quite enough to make a pie with.  But it was the last, all I had.
I decided to combine the applesauce pie recipe with the rhubarb, and a few changes.
3 ¾ c diced rhubarb
2 cups homemade sugar free applesauce
½ cup packed brown sugar
¼ cup flour
1 T cinnamon [Okay, I LOVE cinnamon!  You may want less!]
½ t nutmeg
¼ t ginger
¼ t allspice
4 large eggs
Dredge the rhubarb with flour.  Place brown sugar in the bottom of a medium sauce pan and turn heat to med.  As sugar "melts" add dredged rhubarb and applesauce.  Add spices.  When well mixed, turn heat to medium low.  Stir frequently.  I cooked this for 30 minutes. The rhubarb was starting to soften.  I didn't want it mushy.
Set aside to cool.  If you like doing dishes, place in a cool bowl in the refrigerator.  If not, and you aren't in a hurry, leave it in the sauce pan to cool.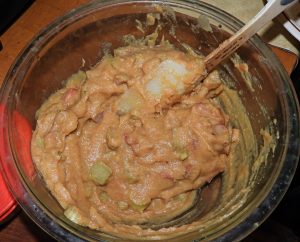 Now here, if you are more talented than I am, you can make your own pie crust.  It doesn't seem to matter what recipe I use, it is not my talent.  So I used one of a two pack of Pillsbury pie crust.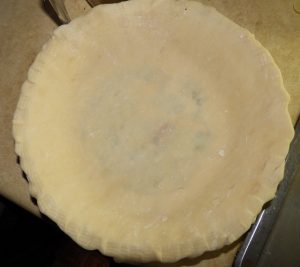 Prepare a 10" pie with shortening or pan spray.  I find shortening works best.  Add pie crust.
When the fruit mixture is nearly cool, preheat oven to 425°.
In a small bowl beat 4 eggs well. Stir into fruit mixture until well blended.  Pour into pie crust.
Cover the rim of the pie with aluminum foil or "crust protectors".  Bake for 40 minutes on bottom rack. Check and bake another 10-15 minutes after turning 180°.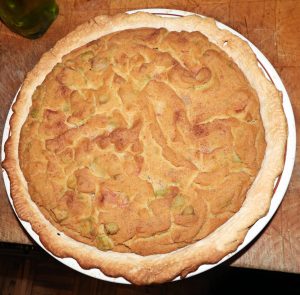 Cool completely before serving.