About Randy Selby, Gunsmith:
Randy is an experienced gunsmith, custom rifle maker, hand-loader, machinist and tool and die maker. Learn more:
Early History
Randy learned from an early age by the example of his Granddad, Earl Brahler, who was a lodge owner 13 miles from the east gate of Yellowstone National Park, West of Cody, Wyoming. His Granddad was also, among other talents, a gunsmith and hand loader. Randy was also fortunate to live nearby and have as a close friend, the late Les Bowman who lived on the South Fork, Southeast of Cody on the L-B Ranch, as an outfitter and guide. He tested and wrote magazine articles for all of the major firearms companies, including Colt, Remington, Winchester, Weatherby and others. As a trained engineer, gun tester and expert ballistician he also tested products for the major scope manufacturers and reloading component companies, writing the results in industry magazines here and abroad. Randy spent thousands of hours, while in Cody and later years in the different locations where Les was living, helping and learning from Les as he was testing firearms, scopes and components starting at the tender age of 8 until Les's death in 1987 when Randy was 36. Les was one of the most qualified men in this country to test rifles and the large gun companies and gunsmiths sent their rifles to Les for product testing.
Certification
Randy spent two years, 1969-1971, earning an Associate Degree in Applied Sciences with a major in Gun Smithing, in the department founded by P. O. Ackley, at Trinidad State Junior College. He studied under the direction of Bill Prator, Ed Shulin and Warren Key.
In the late 70's he worked for Speer, Inc., founded by Vernon Speer, located in Lewiston ID, and was instrumental in developing machinery to produce their line of boat-tailed bullets. He built a variety of accuracy and pressure testing rifles for Speer.
From there he worked for Don Burris of Burris Scope Company, formerly of Redfield, in Greeley, Colorado as their prototype tool & die maker and machinist. At the same time, through all of years of school and then working for these two companies and others, he was building accurate precision rifles and doing extensive ballistic testing. He has saved a record of all of the results of his ballistic testing from all of these years.
More About Randy
Randy has been building rifles since 1969 and is a very experienced gun maker, hand-loader, machinist and tool and die maker. He learned from an early, by example of his Granddad, Earl Brahler, who was also a gunsmith, hand-loader and lodge owner. Randy was also fortunate to live near the late Les Bowan as his mentor and close friend. Les lived on the lower South fork L-B Ranch and he wrote for many publications and tested firearms for all of the major firearm companies, including Cold, Remington, Winchester, Weatherby and others. Les was a trained engineer, firearms tester and hand-loader. Randy spent thousands of hours, starting at 8 years old, helping and learning from Les, very hands-on, as Les was testing firearms. Also, when he was 8, Les introduced him to Col. Townsend Whelen. Les was the most qualified of all the men in this country to test rifles and the large gun companies and gunsmiths sent their rifles to les for product testing. Much of what Randy does and knows is from the foundation learned from Les' friendship and tutoring. His schooling and many years of experience since has grown from that formative and fortunate foundation.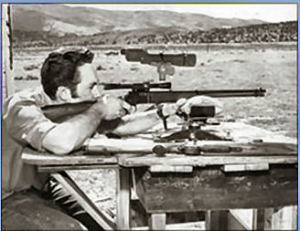 In the Shop
Randy has a complete shop equipped to machine, build and test any rile. He has, right out the shop door, a test facility on premises to accuracy test and check velocities from 100, 300, 400, 500, 585 yard ranges and further. Therefore he may thoroughly test not only every custom rifle he builds, but any rifle that comes in for modification, conversion or repairs. Randy loads for over 170 calibers and chambers for hundreds more.
Randy also makes and install his own muzzle brakes and has on many occasions made custom actions for individual needs and requirements. He builds stocks from common to exotic woods, with or without checkering, laminate or will use top of the line fiberglass stocks.
From a Very Young Age
From a very young age Randy was out hunting with rifles he worked on himself and did the handloading for. He is an experienced big game hunter and tests many calibers and bullet combinations as well as scopes out in the field, as do his sons and now their families, as well.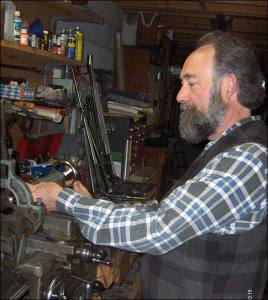 The area is a prime area for long range shooting with special equipment. He has had the opportunity to build rifles that have gone with hunters from coast to coast, Alaska, Canada, Africa, Germany and Australia. The owners of these rifles have derived many hours of superb shooting in matches, for fun at targets and have brought down many hundreds of big game animals successfully. These rifles are all something the owners may be proud to pass on to their heirs when the time comes.
The Shop
We feel this shop is unique because of the experience Randy brings to each custom rifle. Not only does he have the extensive experience in building custom rifles, but because of his training with Les Bowman along with his own work, ballistic experience and data he's collected, he can offer custom work up loads to give optimal performance. Further, Randy's training and experience in the field of tool and die making, machinist, engineering and design brings qualifications not found in many shops.
An independent gunsmith, the late Eb Tarr, wrote this about Randy' Custom Rifle shop in 1991 and it is still applicable today:
"It was really a pleasant surprise when I got my first look at Randy's shop and his vast amount of equipment. He had an extensive amount of dies, reamers, bullet molds, power tools, bench grinders, drills, gunsmthing tools, etc, including an extensive library of technical data. In fact, I don't think that I have ever seen a better collection of gunsmithing tools and equipment in any shop I have ever visited, or in fact, owned. Some of Randy's reamers and special tools I have never seen before and he told me that much of what he'd acquired had been given to him from his Grandfather before his death and he had inherited the remainder upon his [Grandfather's] death.
Some of the special jigs and gun working fixtures he said he had designed and built himself as there were none on the market in the caliber he wanted.
The amount of time, material and expertise that is necessary to accomplish this is tremendous.
Randy probably has a life time of work in the special tools and equipment in his shop. Many of his tools are one of a kind, and to duplicate would have to be special made by a master gunsmith."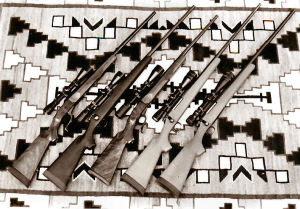 In Closing
Randy builds rifles in lightweight to Safari style, light varmint match rifles to 1000+ yard rifles as well as takedown rifles in calibers from .17 to 50 BMG. He uses only the best components available using standard techniques as well as applying special accuracy techniques that he has developed and, as far as we have learned, used in any other shops.
From this shop Randy has built rifles for the very young, modified rifles to help the older, disabled or vision impaired shooter, or for any other special needs that may arise.
We are confident that you have come to one of the country's most experienced gun makers, with years of know-how to give you the best value for your money. Prices vary with each specific order. We will work with you to evaluate your shooting style, needs and "wants" to build you a rifle of your dreams.
As each order is a custom order there are no discounts.