NEW: WAPITI EXPRESS MUZZLE BRAKE:
Our Wapiti Express muzzle brakes are of a 2 piece design.  It may be installed on rifle barrels of .224 through .338.  There are only two holes in the top of the brake  which measures .750″ diameter x 2″ long.  It is a very quiet brake, easy on the ears, no offensive blast for the shooter or bystanders as with normal brakes.  Brake and installation by Randy's Custom Rifles for $200.00
Our  traditional muzzle brakes are machined in house are the same diameter of the barrel.
Intragal to the barrel $100.  Or it may be threaded into the barrel, for $150. A muzzle brake threaded into a barrel and with a cap to use when the muzzle brake is not wanted would  be $175. The brake will match barrel.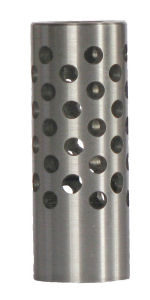 hands down, Randy is the best kept secret in the West. Mike F.